A List of 10 Low Purine Foods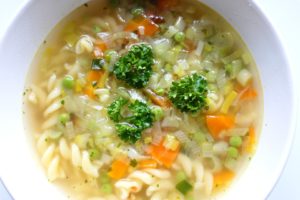 For those who are susceptible to uric acid buildup in the body, following a proper diet and drinking plenty of water helps dilute the acid. Unfortunately, many people who suffer from this condition may not recognize that part of the source of uric acid is found in the foods and beverages that they consume. Purine foods in particular are a prime source of uric acid.
What is Purine?
Purine is a product that is found in certain foods and occurs naturally in the body as well. The issue with purine foods is that when digested it breaks down into uric acid which can wind up being deposited in crystal form in the joints. When the uric acid crystals start to build up in the joints, it can cause pain and inflammation that is often referred to as gout or an attack of gout.
Roughly one-third of all uric acid present in your body comes from foods and beverages that have a considerable amount of purine. The more food and beverages you consume that contain purine, the more likely you are to have higher amounts of uric acid in your system. In addition to gout, too much uric acid in the body is responsible for kidney stones.
Tips for Lowering Uric Acid Levels
The good news is that there are a number of ways to lower the amount of uric acid in your body so that you can reduce the number of kidney stones and attacks of gout.
1) Drink More Water
Consuming more water dilutes the amount of uric acid in the blood. This makes it a lot easier for your kidneys to process the uric acid and pass it through without building up in your blood stream.
2) Consume More Vitamin C
An increase in Vitamin C consumption has shown to reduce the amount of uric acid in the bloodstream. You can take vitamin supplements or increase the amount of foods and beverages that contain Vitamin C such as orange juice for example.
3) Eat Low Purine Foods
By focusing more on consuming foods low in purine, the less uric acid will build up in your blood stream. The combination of avoiding high purine foods and consuming those with only a low amount will result in having less uric acid in the body.
By combining all of these tips, you can greatly reduce the amount of uric acid in your blood which in turn means that attacks of gout and kidney stones will be reduced as well. This is why it's important to emphasize foods that are low in purine when it comes to your daily diet.
10 Low Purine Foods
Purine is very difficult to avoid all together because it is present in so many different foods. However, there are some food that contain higher amounts than others. Plus, there are foods that contain high amounts of purine, but do not produce as much uric acid as other foods that do.
Here is a list of 10 foods that are low in purine:
Bread
Most types of bread have very little purine which means that you do not have to worry about how much uric acid it might create in your body. However, it is wise to stick to whole grain breads which do not have that additives of standard white or wheat breads.
Cereal
Most cereals have very little purine which makes them a good choice for your breakfast. Be aware however that many do contain a considerable amount of sugar which can affect your weight.
Coffee
It may seem with all the news about coffee that being low purine is an exception. However, coffee does offer many good properties including being low in purine which helps keep uric acid levels down.
Eggs
Eggs are also high in protein and when consumed in moderation is a very important part of your diet.
Low Fat Dairy Products
This means that dairy foods that are low in fat which includes milk and cheese can be safely consumed without fear of taking in too much purine.
Nuts
Nuts are loaded with excellent properties, although they do contain a high amount of fat. So, eating a handful of nuts a day makes for a great snack while maintaining a low purine diet. Just be sure to eat the ones low in salt.
Pasta
For those who love pasta, the good news is that it has very little purine so you can safely enjoy your favorite pasta dishes. Of course, pasta offers a lot of carbohydrates and fats, so consuming an excess amount may pack on excess weight.
Potatoes
The potato offers a number of benefits to the body, one of which is being very low in purine so that it does not contribute to the levels of uric acid in your body.
Soups without Meat or Broth
Soups that are vegetable based are very low in purine and quite filling when properly prepared which makes them a great choice particularly when you want to lose excess weight. However, keep in mind the salt content and go with soups that use fresh vegetables if at all possible.
Whole Fruits and Vegetables
In addition to all the benefits that consuming fruits and vegetables offers, being low in purine is just another benefit. Keep in mind however that there are certain vegetables that have high amounts of purine such as spinach.
However, these particular vegetables do not contribute greatly to the uric acid levels in your body because of the way the purine is absorbed.
For those who have suffered from kidney stones or attacks of gout, going with a low purine diet can help alleviate or may even prevent such circumstance to occur.
However, a low purine diet is always a good idea for anyone who has a family history of gout or kidney stones.
When combined with drinking plenty of water and adding more Vitamin C to the diet this can greatly reduce the chances of experiencing gout or kidney stones that are caused by an excess of uric acid in the bloodstream.